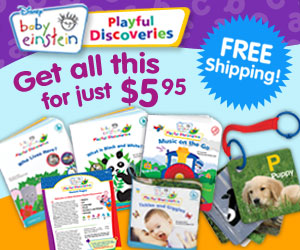 I LOVE this deal!  If you have a baby, are pregnant, or even have a friend who is pregnant, grab this great offer!
Baby Einstein package includes 3 board books and 1 plush book, discovery cards with an attachable ring for only $5.95.
– Bonus book 50% Off: Jumbo board book, Baby's First Words
– Receive a parent page with tips on how to introduce your baby to language, music, animals, nature and art.
– Make connections between images in the book and in the real world.
– Create lasting memories while developing a life-long love of reading.
– Shipping is FREE!
– Control your membership online.
Grab yours now!
– Risk free. Cancel anytime with NO purchase commitment!