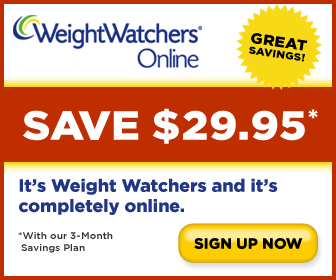 Looking for a diet plan that doesn't limit what foods you are able to eat? Then Weight Watchers is for YOU! Join a whole community of members that are here to help you reach your ultimate weight loss goals, while forming healthy eating habits. When you join WeightWatchers you can attend meetings, and have weigh in sessions to be sure you are on the right track towards your goal. Think you don't haver time for Weight Watchers? Think again! Now with Weight Watchers Online you can track your own goals on your own time.
The best about becoming a member of Weight Watchers is once you have reached your ultimate weight loss goal, you are a member for life! You don't ever have to worry about those unwanted pounds coming back, because Weight Watchers is there to help you maintain the healthy new you! So what are you waiting for?
Join Weight Watchers Online today!
Advertising Partner of Weight Watchers